On The Streets: Bar III Pops In at the Hester Street Fair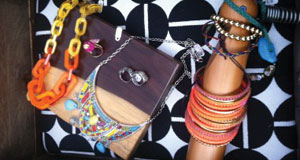 How does a mass retailer to get in good with tastemakers? The ingredients seem to be: pop in to cities with the best style-based flea markets, enlist a super chic fashion blogger as your style ambassador and add a social media component to the campaign that has an on-site presence.
That's what we saw from bar III, Macy's contemporary line that launched its "flea tour" at the Hester Street Fair on Manhattan's Lower East Side this weekend.
A well-merchandised stock of  men's and women's apparel, bedding and accessories filled the branded tent. While consumers couldn't walk out with inventory, staff was on-hand to place orders via the Macy's iPad app. To sweeten the deal, customers received free shipping, a limited edition tote from emerging designer label Fleabags for purchases over $100 and a coupon towards their next purchase.
For Macy's, the bar III pop-in is a way to introduce those not familiar with the line and all its product offerings (who knew they had bedding?) to consumers. It also represents the changing face of retail and its need to be novel, engage through social media and leverage influencers like fashion blogger Aimee song of Style and Song who has over 13,000 Twitter followers that will be going on the tour. On-site, there was also Instaprint, the new, must-have technology at any event that prints out photos of Instagram posts when tagged with the venue's name (e.g. #bariiiflea).
[portfolio_slideshow]
Check out all of the vendors at the Hester Street Fair and see that dates that the bar III flea will be headed to Chicago, Denver, Pasadena and back to New York.
Emerging designer or have a resource to share, please feel free to contact me at hello@theemergingdesigner.com.
You may also like: