Check Out FIT's School of Continuing Education and Professional Studies Open House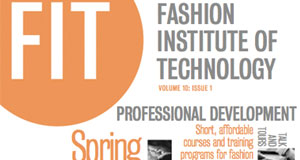 If you've been thinking about going back to school or want to hone in on a specific area of fashion, then you should check out FIT's School of Continuing Education and Professional Studies Open House. The best part of the school is that there's probably a program that will fit your needs. They have a variety of options ranging from credit, non-credit, part-time and evening and weekend programs. Fashion design, fashion merchandising or fashion management are just some of the topics offered. However, those are just the basics. They have styling, pet product design and fragrance development programs along with a variety of others that may peak your interest.  Starting March 29 through next month, information sessions will be held at FIT and online and will cover the following:
Credit & Non Credit Information Session - learn about the various program options that's best for you
Credit Certificate Programs - hear about the Millinery and Performance Athletic Footwear Certificate Programs
Advisement and Registration Session - explore course options and speak to a faculty advisor
If you want a basic introduction on a specific topic, there's also the Tools of The Trade program that offers one-time seminars on topics such as Assessing Your Market, Lookbooks and Linesheets or the Inside Scoop from Pattermakers, Graders and Sample Makers for just $35 a class throughout the year. 
Check out all of the programs and learn more information about FIT's Open House.
Are you an emerging designer or have a resource to share? Please feel free to contact me at hello@theemergingdesigner.com
You may also like: