Emerging Designer Spotlight: Kelly Love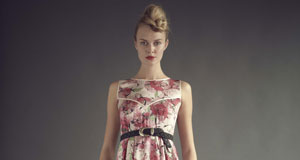 [portfolio_slideshow]
Australian bred and now London-based designer Kelly Love knows how to take you on a journey each season. In her third collection, she blooms a garden of looks, most appropriately called Pocket Full O' Posies. Inspired by picnics in the park, childhood memories and 1930's ladylike silhouettes, there's something simply refreshing about this quality-crafted collection.
Staying true her modern vintage aesthetic, she pairs silky soft Italian fabrics, an olive jacquard spotted silk and French antiqued lace to accent pieces. What pops throughout the collection is her exclusive floral print. Hand painted by artist Jolene Nettingham and printed onto fabric, you'll see this floral treatment on pieces such as a beautifully draped maxi dress, high-waisted shorts and a soft and easy pocket robe which shows continuity throughout. And, with a combination of jumpsuits, dresses, trousers and blouses, there's a perfect amount of variation to take on any springtime jaunt.
Already becoming an international name, Kelly Love is stocked at Silkfred, Young British Designers, Dolls in Dublin and Sauce in Dubai.
Check out the entire collection at Kelly Love.
Are you an emerging designer or have a resource to share? Please feel free to contact me at hello@theemergingdesigner.com.
You may also like: