Elena Bobysheva Spring/Summer 2016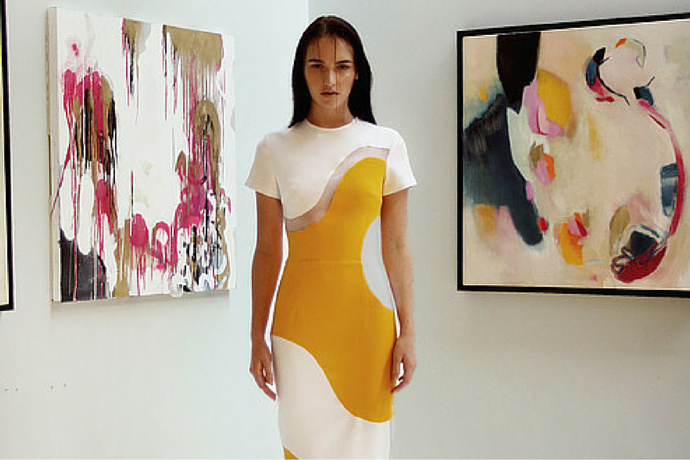 To stay consistent with what she does well, Elena Bobysheva, a Chicago-based designer continued to develop her love for asymmetry while adding fluidity mixed with her own novelty to tried-and-true silhouettes for her spring collection. Married with an art story, contemporary artists such as Imi Knoebel are reflected in the shapes, curves and details of the collection that show both playful and provocative looks.
---
This season, I wanted to experiment with color, shape, and length to create curved and asymmetrical graphics.
---
Stretch crepe tops, each color-blocked with a geometric composition seemed effortless paired with pleated skirts.  To revitalize the shift dress, she created an abstract stencil hem cut from an ivory faux suede fabric that was made complete with a peek-a-boo pleated georgette underskirt, which seems to be hear thing each season.  These styles show her creative construction techniques and for a slice of glamour, there's an an open weave lace flute dress with floral embroideries in black and white with a playful peplum that elevates the mood.
---
Photography: Jingyu Lin Model: Maggie Rose | Rock Agency Hair & Make up Artist: Megan O'Kuesa Stylist: Abigail Lipp Location: Fulton Market Gallery | Chicago
Learn more about the brand at Elena Bobysheva.
---
Emerging designer or have a resource to share? Please feel free to contact us at hello@theemergingdesigner.com.