Emerging Designer Spotlight: Bishme Cromartie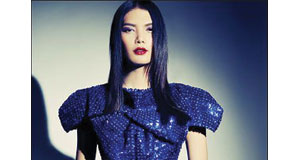 Bishme Cromartie is an emerging designer on the rise. At a young age, he learned how to sew and started making clothes while he attended a business and law high school in Baltimore. Knowing that he wanted to focus on fashion, he applied to various universities, but didn't get accepted. Never giving up, he decided to pool his resources together and immerse himself in the industry and learn on his own. For him, some of the biggest challenges were learning how to drape, make patterns and brand himself, but is happy with the progress he has made and realizes that designing is an ongoing process.
Bishme created his first collection at 16 and his most recent one, five years later is titled BC21, his age and is purely sophisticated with a sultry blue and tan story and strong details. Bishme says, "when it comes to designing a garment, I look at it as art. I make sure that my garments are always feminine, structured and eye catching. My signature consists of exaggerated shoulders and hips, along with very structured but feminine touches." His work is quite spectacular and each collection throughout the years tells a different story, while capturing his aesthetic.
[portfolio_slideshow]
Bishme has already made strides. He has developed a solid client base for custom work and his designs have been featured in Vogue Italia and Elle Vietnam. This fall, he will be showing his spring/summer 13 collection during Fashion Week in New York.
Check out his entire line at Bishme Cromartie.
Emerging designer or have a resource to share? Please feel free to contact me at hello@theemergingdesigner.com.
You may also like: