Emerging Designer Spotlight: Nicki Cozzolino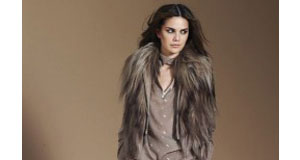 New York-based womenswear designer Nicki Cozzolino is on the path to building her own label. A Parsons grad that spent 12 seasons working at Richard Chai, she knows a thing or two about the industry. Now showing her second collection, Nicki tells us that her brand is for the woman who has upgraded her tomboy look and has transitioned into a style that is sophisticated, slightly edgy and carries that nonchalant grace.
For fall, you'll see looks that were inspired by her travels to various regions in Turkey. Playing with stone grey, warm sable, olive, black and mauve as her color story, this season is about a wearable array of fabrications and custom prints that were all designed by Nicki herself. Grounding the collection is the Evil Eye print in crepe de chine and an irreverent cat symbolic of Istanbul in silk georgette along with other patterns that are unique to the brand. Slinky pants that come in ankle and cropped lengths go well with her relaxed blouses and dresses. In fact, the entire line can be layered and mixed and matched, leaving it up to interpretation. There's also a range of outerwear that work in unison. The cashmere coat, slim fitting lambskin motorcycle jacket and hooded poncho are all well-detailed pieces. And, one other stellar item is the natural long hair Tuscan lamb fur vest that will surely bring out the woman in all of us.
[portfolio_slideshow]
Check out this made in New York label at Nicki Cozzolino.
Emerging designer or have a resource to share? Please feel free to contact me at hello@theemergingdesigner.com.
You may also like: