Emerging Designer Spotlight: SAUNDER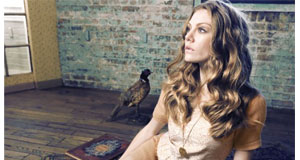 Emerging designer Emily Saunders is a New York girl at heart. Greenwich Village to be exact. Growing up in a city with fascinating style and unique characters informed her viewpoint along with her life experiences. A literature major at Wellesley, she thought she would become a costume designer. So, to gain experience, she spent the summer in London working in the women's costume room at the Royal Opera House and at the Globe Theatre.
Realizing that she wanted to pursue womenswear, she returned to school to study fashion design at Parsons The New School for Design. Upon graduation, she spent time in India exploring and learning about sourcing, dying, block printers along with the diversity in textiles and various manufacturing techniques.
With a solid knowledge of design and taking the time to understand production, she started SAUNDER a year ago. Emily describes the brand as feminine, with an eclectic spin that infuses her travels and upbringing.
For fall/winter 2012, her second collection, she was inspired by the Pastoral Period of art and literature, creating looks that lean on the side of "earthy and natural" as she describes it. She also plays with textures and unexpected fabric pairings like her soft hemp mesh top with neon piping lined with crepe de chine and satin backed organza inlays. Flirty wrap skirts, short dresses in solids and prints and dolman sleeves create free flowing looks. And, whether her woman wants to pop in red or channel a bit of playful sophistication via petite peplums and one shoulder numbers, her line encompasses a range of wearable pieces.
[portfolio_slideshow]
The thoughtfulness of the line doesn't stop there. She's keen on using fabrics in an ethical way. For this collection, she sourced textiles that were grown and milled in the United States and is using a few fair trade fabrics that have been hand loomed by artisans working in India. The line is also proudly Made In New York, where she can establish relationships with garment workers, contribute to fair wage practices, oversee quality control, and be amongst the same iconic designers that produce in the city.
Check out the entire line at SAUNDER.
Emerging designer or have a resource to share? Please feel free to contact me at hello@theemergingdesigner.com.
You may also like: