Get Inspired by Runway Looks to Market Your Designs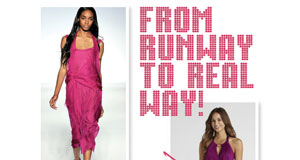 As part of Kmart's Fashion Series, I was lucky enough to get asked to curate a look from the runway that readers could replicate by using items from their various fashion labels.
Whether you have a similar piece or items that compliment a look, leveraging the runway can be an easy and effective way for a designer to market their products and stay relevant in pop culture.
Here's how I paired what I saw on the runway using clothes from Kmart:
For spring 2012, Alberta Ferretti sent a dress down the runway in a rich shade of raspberry as a showstopper. This look is sophisticated and bold, but also easy to pull off. Start with the Attention halter maxi dress in orchid because you will not only make a statement, you can throw it on and move easily during these hot summer months. Get glam by accessorizing with Sofia Vergara's stunning purple and emerald earrings and these gladiator sandals with fun gold detailing by Glo. See how easy it is to be effortlessly chic?
With fashion week coming up, be sure to check out what's on the runway and see what looks can compliment your designs.
Emerging Designer or have a resource to share? Please feel free to contact me at hello@theemergingdesigner.com.
You may also like: