How to Surprise Your Fans and Customers on Instagram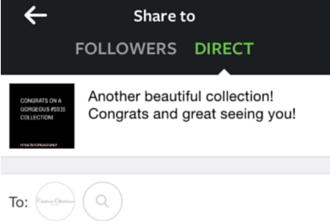 Whether you're running your business or just starting out, it's probably safe to say that your brand is on Instagram. Potential customer and fans are on there too. And, the one great thing about the social platform is that it's all about community. With that said, it's your opportunity to engage and connect with others. As a marketer, you have access to so much information and opportunity to make your network feel special and provide good customer service. Plus, there's something to be said for a brand that can convert fans to brand ambassadors.
With this simple piece of insight, you can connect them in a big way by leveraging their Instagram Direct message feature which allows you to send exclusive photos and video to others.
Here are 6 ways to surprise your customers and make a more intimate and positive experience:
1. Send a personalized message 
Sending a fan a personalized message is a great ice breaker because it starts the conversation and makes the user feel special primarily because most brands don't do this. Plus, it's just a nice gesture.
2. Announce news
Launching a collection, product or having a sale? This is one way to get that news out to people. Plus, it may have a better conversation rate than email newsletters.
3. Say thank you
A thank you message can go a long way. You can send one after a purchase or because a fan responds in a positive way. Adding personalized touches like their name or mention a product they bought or are interested will also help the experience feel genuine.
4. Offer special discounts and exclusives
You can give your very best fans a special discount or offer exclusives; especially when they like a certain product.
5. Invite them to events
Whether you're having an online or offline event, an invite is always a fun thing to receive.  For important fans, you may want to give them a VIP status or say that it's an invite for your best Instagram fans. And, by carving out this distinction, that fan may be more receptive.
Determining which customers you message will most likely require a little digging to see how they've engaged with the brand and what they've purchased. However, this investment will ideally lead to good experience and repeat business.
To do this, you can quickly create graphics by using the Over app or through  Canva, the free desktop program to make customized and beautiful visuals. Plus, Instagram Direct allows you to add text so you can provide additional context to the visual.
Emerging Designer or have a resource to share? Please feel free to contact us at hello@theemergingdesigner.com.