Made in America Stands Out at MAGIC Trade Show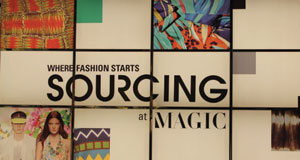 A patriotic zeitgeist was in bloom during MAGIC last week. The Made in the U.S.A seminar kicked off the trade show and panelists gave the audience on overview on why onshore manufacturing is making a comeback and how major brands have made local a part of their DNA.
The State of Sourcing 
Antonio Villaraigosa, Mayor of Los Angeles opened the seminar and touted some impressive stats. LA, home to 10,000 fashion related companies and 14 design schools is booming. Every aspect of the fashion manufacturing process can be done downtown Los Angeles, allowing designers to conduct their fashion business in one centralized location. To keep this momentum going and provide designers with resources, a made in LA company registry is on the horizon.
On a national level, headway is also being made. Francisco Sanchez of the U.S. Department of Commerce spoke about how in-sourcing, or bringing business back to America is on trend and how exports are likely to double by 2014 due to trade agreements from Colombia, Korea and Panama. Similar to LA, Export.gov, another registry where businesses can sign up their made in the U.S.A label will receive greater attention. Other initiatives like reduction of tariffs on select apparel components coming into the USA are being considered to increase local production.
Erica Wolf, Director of Special Projects for Nanette Lepore explained how the country is seeing a manufacturing renaissance through collaboration, strengthened awareness and transparency. Growing support for locally made products and more designers bringing production back to the states has become a movement. More factories are opening and providing workers with training to learn new skills while initiatives for emerging and independent designers are coming up like SF Made, Made in NYC and the Chicago Fashion Incubator.
Made in the USA Brands
Well-known brands are doing their part too. Brooks Brothers, staying true to their All-American heritage from the inside and out has three factories and employees about 900 associates practicing lean manufacturing for efficiencies and quality control.
Rob DeMartini, CEO of New Balance, a 106 year old company that started with arch supports said that company manufacturing is at an all time high, but still buys from 38 local suppliers. Their commitment to made in the U.S. products not only includes job stability for their community ,but also has other benefits such as innovation, meeting customer needs such as timely deliveries and re-orders, waste reduction and quality control. They've even passed along this message to the consumer with product pushes that allow people to create custom shoes that help market made in the U.S.A.
Also keeping it close to home, Nanette Lepore has always used a centralized production model. Starting in 1987, with a small East Village boutique, she continues to run a successful and profitable retail business. 85% of merchandise is made in New York's Garment Center and the brand has become a case study for making local manufacturing work.
Save The Garment Center
Wolf, also Executive Director of Save The Garment Center gave an overview of manufacturing in New York. With 13,000 manufacturers in Midtown Manhattan and 846 fashion companies headquartered in NYC, more than Paris, Milan and London combined stressed that the city continues to thrive as a fashion mecca. New York also serves as the launch pad for emerging designers. With access to sourcing and factories that offer small minimums and allow for quality control without compromising speed to market, keeping it local for new talent is attractive. What was also made clear is that their is a developing community filled with incubators, educational resources and platforms in the area and in totality, all compelling reasons as to why the Garment Center is worth saving.
Emerging Designer or have a resource to share? Please feel free to contact me at hello@theemergingdesigner.com.
You may also like: