Open Call: 1407 Broadway Space Forward Ideas Competition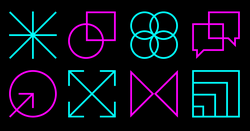 Located in the heart of New York's Garment Center, the 1407 Broadway building wants to be a hub for innovation in the district. With 1 million square feet, the building has been remodeled to foster collaboration and creativity. And, with forward companies like the Barbarian Group and Techstars as tenants, combined with their "Looking Differently" facade, they're starting to make a mark in the neighborhood.
To help transform how companies do business, they've launched the Space Forward Ideas Competition which asks others how would they re-imagine the workspace? They're looking for ideas that show how this looks, feels and sounds and a jury of local constituents will select concepts based on novelty, quality and clarity.
They've supplied interested participants with building layouts and icons on the application page that express the building's principles towards the work environment such as exchange, focus, grow and create.
The contest is open to U.S. residents over 21 and and the application is due by May 15, 2014. One grand prize winner will be awarded $14,000 and 3 runner up contestants will receive $3,000.
Learn more and apply to the contest at the Space Forward Ideas Competition.
Emerging Designer or have a resource to share? Please feel free to contact us at hello@theemergingdesigner.com.
You may also like: