Welcome to September: The Fashion Calendar is Here!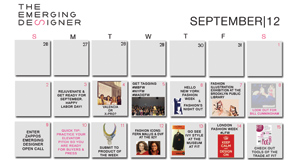 Welcome to September! It's a busy month so we made sure to map out key listings on the Emerging Designer Fashion Calendar along with tips and inspiration. Be sure to get more information on our event page!
Emerging Designer or have a resource to share? Please feel free to contact me at hello@theemergingdesigner.com.
You may also like: