WWDMAGIC Launch Pad Designer Astrid Brucker Tells us How To Prepare For a Trade Show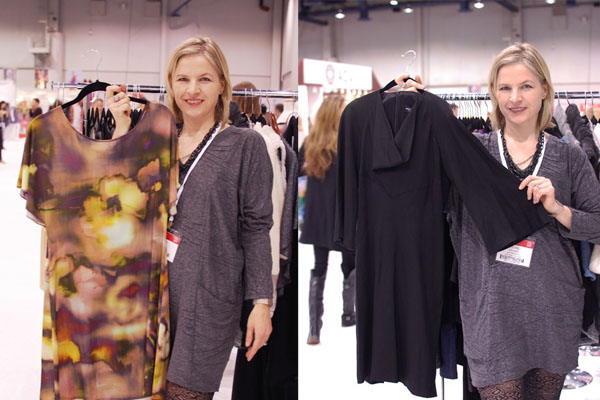 Astrid Brucker was one of the lucky designers chosen to participate in Launch Pad, the emerging designer section at WWDMAGIC, developed in partnership with Fashion Business, Inc. earlier this year for her New York based line astridland. We had a chance to chat with Astrid about her experience and get her tips on how to prepare for your first tradeshow.
Can you tell me a bit more about astridland? My aesthetic is edgy, yet functional. It's feminine clothing with clean lines that are minimal, yet bold. The target consumer is 25-45 years old and the price points are $35-$200 wholesale.
What's your background? I've worked for Ingrid Luhn, Harve Benard, The Marissa Collection, Morgane Le Fay as well as designed costumes for commercials, television and feature films.
What did you receive as a Launchpad designer? I received a table to share, a chair, rolling rack and a sign. I made my own promotional materials and received coaching from Mercedes Gonzales at Global Purchasing Group.
How did you prepare for the show? I made line sheets as well as a lookbook, compiled pictures for the slideshow on the iPad, and had my samples. I think the I-pad is crucial as it lets the buyers see the clothes on the body. Linesheets and business cards are also important.
How did you decorate your space? I brought a tablecloth and flowers for the table I shared.
Did you feel that buyers wanted hard or electronic copies of your lookbook and linesheet? I used both, but I would have printed out less line sheets.
What are the types of questions that buyers asked you about the line? The first questions were about price points and minimums. I showed the buyers the colorways. I presented immediates as well as fall 2012 and let them know that I ship from NYC.
How did you get people into your booth? I asked the people walking by to take a moment and look at my line.
Did you feel that the experience was a success? Yes! I got my first two orders at WWDMAGIC and made many other contacts with store buyers and bloggers.
What's your advice for a new designer at a tradeshow? Wear comfortable shoes! Follow-up is important. I made sure to follow up with everyone I met via e-mail. I never sat down and didn't talk on my phone, which I think it was a good thing. It let's people know you're available, because if they see someone on the phone they might just walk by without looking at the clothes.
Check out the entire collection at astridland and see her styling and costume work at Astrid Brucker.
Are you an emerging designer or have a resource to share? Please feel free to contact me at hello@theemergingdesigner.com
You may also like: