Welcome to November. The Emerging Designer Fashion Calendar is Here!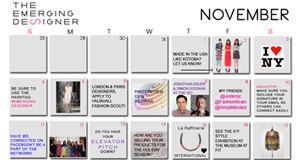 Our November calendar is here and we have a few key events, tips and inspiration for you. Be sure to look at our new section that details what's in store for the month. 
Emerging Designer or have a resource to share? Please feel free to contact me at melissa@theemergingdesigner.com.